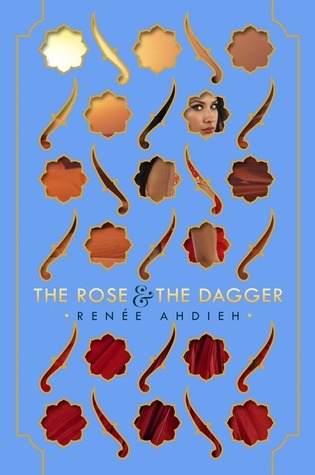 GoodReads Summary:
I am surrounded on all sides by a desert. A guest, in a prison of sand and sun. My family is here. And I do not know whom I can trust.

In a land on the brink of war, Shahrzad has been torn from the love of her husband Khalid, the Caliph of Khorasan. She once believed him a monster, but his secrets revealed a man tormented by guilt and a powerful curse—one that might keep them apart forever. Reunited with her family, who have taken refuge with enemies of Khalid, and Tariq, her childhood sweetheart, she should be happy. But Tariq now commands forces set on destroying Khalid's empire. Shahrzad is almost a prisoner caught between loyalties to people she loves. But she refuses to be a pawn and devises a plan.
While her father, Jahandar, continues to play with magical forces he doesn't yet understand, Shahrzad tries to uncover powers that may lie dormant within her. With the help of a tattered old carpet and a tempestuous but sage young man, Shahrzad will attempt to break the curse and reunite with her one true love.
My Review:
Veronica and I reviewed The Wrath and The Dawn together not too long ago, but she is currently busy with life so it will just me today. Though you will probably hear from her in June regarding the book.
Renee Ahdieh's The Rose and The Dagger is a wondrous follow up to The Wrath and The Dawn. It's full of magic, mystery, and love. It reads like a complex piece of music, words flowing around each other, bringing together an epic love story.
The novel starts right where the first left off. Shahrzad has left Khorasan to project her city, her people, her king. But she doesn't know whom to trust or where to turn for help. She does know that the only thing to prevent this wrenched war is to break the curse. Khalid is love sick and tired, but ventures out to help rebuild his city. The relationships Shazi and Khalid have with others are strained and one wrong move could send them toppling over the edge. But if they can focus on their love for each other and the love for their families, they might find a way back to each other.
I spent this entire novel with my heart clenched. The love that Khalid and Shahrzad share is one for the ages- an epic love story that will live forever. You can see it drive these characters and their choices. And it was admirable to see others who were so unaccepting of their love, come to terms with it.
This novel was from mulitple POVs again, which always drives a story to make it stronger. I loved getting to know Irsa- Shahrzad's younger sister, seeing into the mind of Omar al-Sadiq- how he viewed his people, his wife, and his friends. The friends between the character's were tested, while some broke, others held steadfast. And the twists throughout the novel were never seen until the curtain was drawn aside.
I absolutely fell in love with this retelling, with Shazi and Khalid's love, with their friendships. And while I wish there was more, I am satisfied with the way the story  ended.
"Love was something that did much to change a person. It brought joy as it brought suffering, and in turn brought about those moments that defined one's character." -Omar al-Sadiq
Rating: 5 out of 5