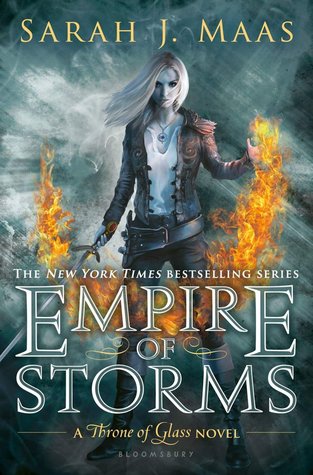 Goodreads Summary:
The long path to the throne has only just begun for Aelin Galathynius. Loyalties have been broken and bought, friends have been lost and gained, and those who possess magic find themselves at odds with those don't.
As the kingdoms of Erilea fracture around her, enemies must become allies if Aelin is to keep those she loves from falling to the dark forces poised to claim her world. With war looming on all horizons, the only chance for salvation lies in a desperate quest that may mark the end of everything Aelin holds dear.
Aelin's journey from assassin to queen has entranced millions across the globe, and this fifth installment will leave fans breathless. Will Aelin succeed in keeping her world from splintering, or will it all come crashing down?
My Review:
This series continues to get better and better. Mass' writing has evolved over time and Empire of Storms is at the top.
As the second to last novel (that we know about because last year we received exciting news about novellas), Empire of Storms picks up right where Queen of Shadows finished. Between the first and the fourth book, Celaena Sardothian has evolved into her true self, Aelin Galathynius. She has used everything she went through to become the true Queen of Terrasen. And in EOS, Aelin must now gather her army and prove she is more than her enemy.
Old friends come back and new faces appear. EoS is a continuous adventure, switching perspectives of several different characters. We learn new back stories. Discover devious plots. Hearts change. Maas weaves secret after secret through the pages and when events happen, it usually blew my mind. And the end completely threw me for a loop. I didn't see any of it coming.
I would put Sarah J Maas in the same story telling category as JK Rowling and JRR Tolkien. She is a story teller, a world builder.
Rating: 5 out 5