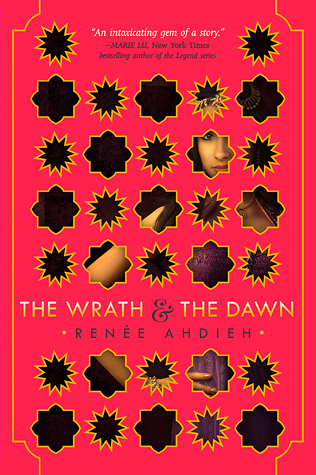 GoodReads Summary:
Every dawn brings horror to a different family in a land ruled by a killer. Khalid, the eighteen-year-old Caliph of Khorasan, takes a new bride each night only to have her executed at sunrise. So it is a suspicious surprise when sixteen-year-old Shahrzad volunteers to marry Khalid. But she does so with a clever plan to stay alive and exact revenge on the Caliph for the murder of her best friend and countless other girls. Shazi's wit and will, indeed, get her through to the dawn that no others have seen, but with a catch . . . she's falling in love with the very boy who killed her dearest friend.
She discovers that the murderous boy-king is not all that he seems and neither are the deaths of so many girls. Shazi is determined to uncover the reason for the murders and to break the cycle once and for all.
Review:
The Wrath and The Dawn is a retelling of Scheherazade and One Thousand and One Nights. Renee Ahdeih's story is colorful, imaginative, and full of magic. This is the first story I have ever read that has a back story belonging to anything Arabic. I wasn't sure I was going to like it, given that retellings of fairy-tales I read are from Europe- Cinderella, Snow White, Little Mermaid, etc. And I am so glad I wasn't sure of my response, it made the story even better than I could have imagined.
The relationship between Shazi and Khalid is one of mystery, of twists and turns. Shazi is a stubborn girl with her own thoughts and ideas, not afraid to voice them or of the consequences. Khalid is a stoic figure, presenting a different image to the audience than one purported to his kingdom. The feelings these two have is something people dream of. And they are a perfect combination when working together.
As my first adventure in Arabic stories, my heart thoroughly enjoyed the emotional roller coaster Ahdeih led me on. Go read this novel, you won't regret it.
After Contemporary Conversations I did not want to read anymore contemporary, and that is a big deal as you all know my grand love for YA Contemporary Fiction. I decided to read this much raved re-telling as a way to distance myself from my much loved genre just enough so I could read it again. And now commences the unedited, not holding back, fangirling review that I hope you will identify with and laugh right along with me at my ridiculous outcry about my feels.
Oh My Gosh. I CANNOT BREATHE. WHAT THE HECK JUST HAPPENED.
*wheezes into paper bag*
My heart cannot take the ending. WHY DID IT HAVE TO END LIKE THAT. HIS HEART. ITS BROKEN. I CANNOT TAKE IT.
Before I get ahead of myself, let's talk about the beginning. My gosh was that not dramatic and full of everything I wanted and more. We have Shazi's hatred fueling her ill decision of avenging her best friend by killing THE CALIPH, or in other words, THE FREAKING KING. That alone has you on the edge of your seat as the first night unfolds, and low and behold she lives to breathe another day.
The Wrath and The Dawn is a story full of action that the majority of time is driven by powerful emotions. We get to see Love, Hatred, and Happiness at its shinning moment, where the emotions are so pure they drive the characters to new heights. I feel like I'm preaching for some reason, but let me tell you that you will not be disappointed by The Wrath and The Dawn if you haven't already read it. It will play with the strings of your heart into the utmost haunting and heart wrenching melody that will have you in a puddle of feels for days.
Have I intrigued you enough? Go read it! I will not spoil thee!

Rating: 5 out of 5