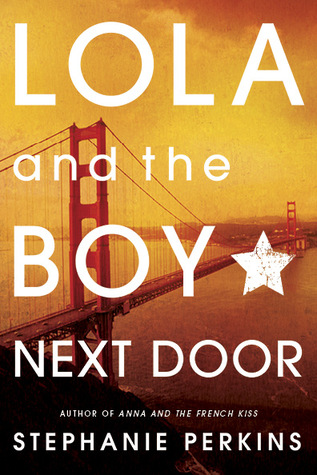 GoodReads Summary:
Budding designer Lola Nolan doesn't believe in fashion… she believes in costume. The more expressive the outfit – the more sparkly, more wild – the better. And life is pretty close to perfect for Lola, especially with her hot rocker boyfriend.
That is, until the Bell twins, Calliope and Cricket return to the neighbourhood and unearth a past of hurt that Lola thought was long buried. So when talented inventor Cricket steps out from his twin sister's shadow and back into Lola's life, she must finally face up to a lifetime of feelings for the boy next door. Could the boy from Lola's past be the love of her future?
My Review:
Of the three novels Stephanie Perkins wrote in this series, Lola and The Boy Next Door is my favorite. While I loved Anna and St. Etienne (their love is eternal), it was Lola and Cricket's chemistry that had me hooked to this author. Also, it does help that I am a sucker for boy-next-door love stories.
Lola is quite an eccentric character- constantly changing her style to represent who she is that particular day. That really struck a cord with me. Most people tend to be very muted in their personal fashion style, a lot of the reason is constricted by society and code of conducts at work. I lived vicariously through Lola and her ever changing identity. She never once apologies for being who she is.
Cricket is the lovable, softly spoken, "nerd" next door who I immediately fell in love with. He truly is the opposite of Lola; and you know what they say about opposites… they attract. You can feel their chemistry right away and I knew they were meant to be together. There were some obstetrical for this to take place- Lola's scumbag of a boyfriend, Lola and Cricket's past history, the tension between Lola and Calli. Also, just the general blockage of Lola herself. She doesn't try to be self-destructive, but sometimes she just can't help it.
Some characters from Anna and the French Kiss make an appearance or two, which was super fun.
Overall, a fun, quirky, light-hearted read.
Rating: 5 out of 5