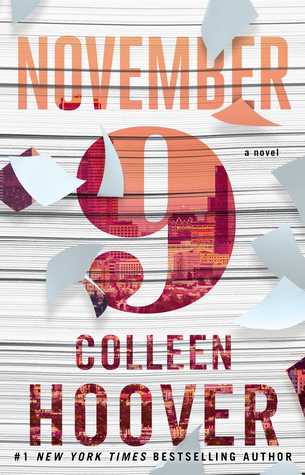 GoodReads Summary:
Fallon meets Ben, an aspiring novelist, the day before her scheduled cross-country move. Their untimely attraction leads them to spend Fallon's last day in L.A. together, and her eventful life becomes the creative inspiration Ben has always sought for his novel. Over time and amidst the various relationships and tribulations of their own separate lives, they continue to meet on the same date every year. Until one day Fallon becomes unsure if Ben has been telling her the truth or fabricating a perfect reality for the sake of the ultimate plot twist.
My Review:
I'd first like to thank Veronica for starting me reading Colleen Hoover. I have fallen in love with her writing and story telling, and November 9 is no exception. Also, November is my favorite month…
This story is magical, with heartbreak, and lots of character growth since it take place over the course of five years. Fallon and Ben meet once a year, on November 9th, to update each other on what has happened in their lives in the past year. It's adorable how they come together, and tragic, due to the circumstances that follow their initial meeting. Fallon and Ben are both extremely complicated characters with pasts that haunt their present. Ben helps Fallon through her confidence issues; Fallon helps Ben through his writing.
Hoover provides many quotable moments, but my favorite is in the beginning, when Ben and Fallon meet on the first November 9th: "Goals are achieved through discomfort and hard work. They aren't achieved when you hide out in a place where you are nice and cozy." I think that quote sets the mood for the book. In order to understand yourself, sometimes you have to go through discomfort and pain to truly know, not only yourself, but what you are capable of. Fallon's mother states, "You'll never be able to find yourself if you're lost in someone else." And I wholeheartedly agree with her. Before you can love someone else, you have to love yourself.
Rating: 5 out of 5