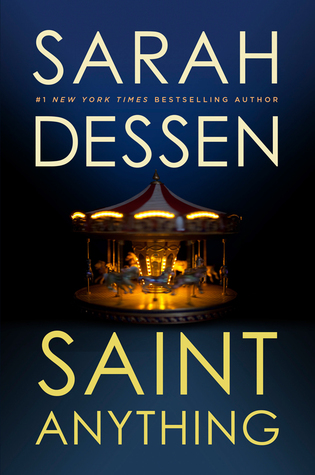 GoodReads Summary:
Peyton, Sydney's charismatic older brother, has always been the star of the family, receiving the lion's share of their parents' attention and—lately—concern. When Peyton's increasingly reckless behavior culminates in an accident, a drunk driving conviction, and a jail sentence, Sydney is cast adrift, searching for her place in the family and the world. When everyone else is so worried about Peyton, is she the only one concerned about the victim of the accident?
Enter the Chathams, a warm, chaotic family who run a pizza parlor, play bluegrass on weekends, and pitch in to care for their mother, who has multiple sclerosis. Here Sydney experiences unquestioning acceptance. And here she meets Mac, gentle, watchful, and protective, who makes Sydney feel seen, really seen, for the first time.
Liz's Review:
This was my first book by Sarah Dessen and I really enjoyed it. It is a classic of what I always assumed high school novels should be- uncomfortable interactions, personal growth, loss of innocence (not sexually), betrayal, tragic vanity, illusion vs. reality. These play out in the different relationships Sydney has- with her parents, brother, friends, love interest.
Dessen does an exceptional job at asking, and answering, questions that as teens we all have at some point. What meaning does my life have? Am I significant? Can I handle the events taking place? Do I have my best interest at heart? Are these people truly my friends? What do I want for my future? And even the simple questions- do I like this boy? Am I comfortable?
We are taken through the story by Sydney, who asks these questions, and has to evaluate what would be best for her, given the situation with her brother, and the lack of anything significant from her parents- emotionally and physically. Through out the book, she grows as a person- from a girl who just went along with her parents and didn't ask anything of, because her parents have made her brother the center of their universe to a person who finally does what is best for herself, standing up to her parents, taking control back from her mother. Sydney is a complex character. Her friends are perfectly written as well, but are not without their own flaws and tragic backstory.
Side note about the mom- I really hated her. Once Peyton went to jail, it was all she thought about. Basically forgetting she had another child who needed her. And because she refused to acknowledge that what her son had done was wrong, Sydney was forced to take on that guilt. And when she finally did notice her daughter, she was a helicopter parent, afraid Sydney would make the same mistakes as Peyton.
This is a wonderful coming of age story.
Rating: 4 out of 5