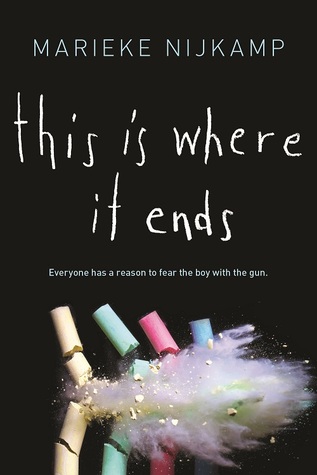 GoodReads Summary:
10:00 a.m.
The principal of Opportunity, Alabama's high school finishes her speech, welcoming the entire student body to a new semester and encouraging them to excel and achieve.
10:02 a.m.
The students get up to leave the auditorium for their next class.
10:03
The auditorium doors won't open.
10:05
Someone starts shooting.
Told over the span of 54 harrowing minutes from four different perspectives, terror reigns as one student's calculated revenge turns into the ultimate game of survival.
My Review:
This Is Where It Ends is a thought provoking novel. We see a school shooting take place through the point of view of four different student. Each student has some type of relationship with the shooter. Over the course of the book you witness these relationships, how they intertwine, and how the characters think that if they had some said something or reacted differently they could've prevented the shooting and the deaths.
Nijkamp shines light on something that is happening all too often recently. Her words are powerful and self-reflective. It was chilling moving through the book minute by minute, knowing where these characters were while the shooting was happening. And it was gut-wrenching watching people die because of one person and the choices they made. While characters believe they are each at fault for something, the only guilt should be in the shooter.
I work for a university and this is something that is constantly in the back of my mind. If a shooting were to happen on-campus, where would I go? How would I react? Would I be brave enough to try and help the students in the way of the shooter? Nijkamp does a terrific job answering these questions through the different characters and gives an honest, and very realistic, account of something we hope we never have to face.
"We are not better because we survived. We are not brighter or more deserving. We not stronger. But we are here. We are here, and this day will never leave us. Nor should it. We will remember the wounded. We will remember the lost."
Rating: 4 out of 5