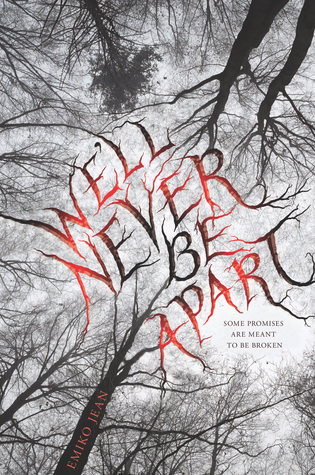 GoodReads Summary:
Murder.
Fire.
Revenge.
That's all seventeen-year-old Alice Monroe thinks about. Committed to a mental ward at Savage Isle, Alice is haunted by memories of the fire that killed her boyfriend, Jason. A blaze her twin sister Cellie set. But when Chase, a mysterious, charismatic patient, agrees to help her seek vengeance, Alice begins to rethink everything. Writing out the story of her troubled past in a journal, she must confront hidden truths.
Is the one person she trusts only telling her half of the story? Nothing is as it seems in this edge-of-your-seat psychological thriller from the debut author Emiko Jean.
My Review:
We'll Never Be Apart is quite an interesting book and the twist and turns I definitely didn't see coming. Emiko Jean's writing is on point and satisfying.
Jean addresses the serious issue of mental illness and how a person copes with traumatic experiences. She does it through the lens of twin sisters and the death of a loved one.  Alice has taken her experiences and tried to see the good in them. Celia (Cellie) is more the rebel and only causes destruction. When they end up at Savage Isle, Alice meets Chase, a boy who has his own troubling background. Through Alice's writings in her journal and the help of Chase, we come to understand the traumatic experiences that put Alice in the mental institution.
I found this book quite intriguing. Mental illness is something that we look down upon. If people aren't able to get their stuff together, then, as a society, we believe they aren't capable of anything. And looking at mental illness through the lens of a thriller novel is even more exquisite. You watch the story unravel to this big ending that I definitely did not see coming. This book made me realize what your brain is capable of doing when coping with traumatic experiences.
Rating: 5 out of 5