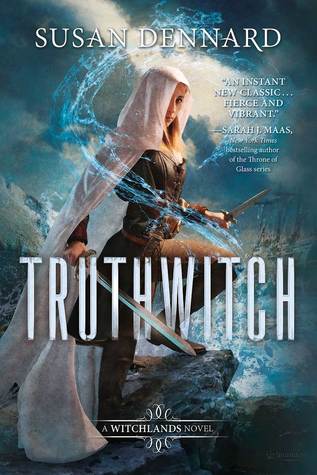 GoodReads Summary:
In a continent on the edge of war, two witches hold its fate in their hands.
Young witches Safiya and Iseult have a habit of finding trouble. After clashing with a powerful Guildmaster and his ruthless Bloodwitch bodyguard, the friends are forced to flee their home.
Safi must avoid capture at all costs as she's a rare Truthwitch, able to discern truth from lies. Many would kill for her magic, so Safi must keep it hidden – lest she be used in the struggle between empires. And Iseult's true powers are hidden even from herself.
In a chance encounter at Court, Safi meets Prince Merik and makes him a reluctant ally. However, his help may not slow down the Bloodwitch now hot on the girls' heels. All Safi and Iseult want is their freedom, but danger lies ahead. With war coming, treaties breaking and a magical contagion sweeping the land, the friends will have to fight emperors and mercenaries alike. For some will stop at nothing to get their hands on a Truthwitch.
My Review:
Truthwitch is such a refreshing read in the YA Fantasy genre. There are a ton of different novels written about witches, but this felt completely original. A witch whose only power is to discern truth from lie. A witch who can smell the blood of a person- specifically what that blood represents. A witch who can see the colorful life threads around her.
The story revolves around a friendship between Safiya and Iseult. I think it's important to emphasize that because you have a lot of novels that would use a F/M love relationship to drive the plot, but Dennard doesn't do this. This friendship is everything to these two girls and they would do anything to save the other. And you see this constantly happening throughout the book.
There is also the theme of personal growth and the realization that selfishness can cause a lot more harm than people realize. At the start, Safi is quite a selfish character, only thinking about herself, and Iseult. She doesn't think about how her actions impact the lives around her- her uncle's, her teachers, etc. And because of this thought process, Safi and Iseult are launched down a path they never would've chosen given the choice.
Merik is a great character and doesn't put up with Safi's crap. ❤ Character development over the course of the book is steady and marks the important decisions each character is faced with.
I do think Dennard's world building could've been better. If it weren't for the map in the front of the book I wouldn't have understood where all these countries were located in respect to each other. She does give great attention to clothing detail.
Also, I wish there was an index so that I could have the proper pronunciations of the different words Dennard uses, as well as, the definition of them because while in the real world they mean one thing, in this fictitious world they mean something else entirely. But these few items don't take away from the the story.
Rating: 5 out of 5