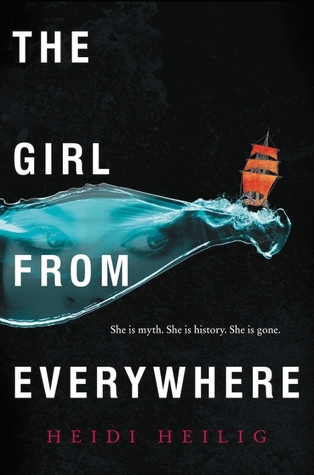 GoodReads Summary:
Nix has spent her entire life aboard her father's ship, sailing across the centuries, across the world, across myth and imagination.
As long as her father has a map for it, he can sail to any time, any place, real or imagined: nineteenth-century China, the land from One Thousand and One Nights, a mythic version of Africa. Along the way they have found crewmates and friends, and even a disarming thief who could come to mean much more to Nix.
But the end to it all looms closer every day.
Her father is obsessed with obtaining the one map, 1868 Honolulu, that could take him back to his lost love, Nix's mother. Even though getting it—and going there—could erase Nix's very existence.
For the first time, Nix is entering unknown waters.
She could find herself, find her family, find her own fantastical ability, her own epic love.
Or she could disappear.
My Review:
When I first started The Girl From Everywhere, I was really worried it was going to be so similar to other time-travel novels I have read.  Specifically, Passenger by Alexandra Bracken. So I went into this novel with low expectations, not really sure I would like what I found. And I have to say I was extremely wrong! Which, in this case, feels amazing.
Heidi Heilig tells a very original, profound story.She grew up in Hawaii and took the tales and folk lore she learned and wrapped them into an adventure full of beauty and paradise. Also, Heilig's idea of time travel, using maps of different places and times is quite imaginative. I haven't read a story where that is how time is traveled by.
Nix, the main character, was born in Hawaii, but after her mother dies, her father takes her aboard his ship. This is where she lives for 16 years. Nix, her dad, and their crew travel to different continents through time. All the while, her father is in search of a particular map, to take him back to the time before Nix's mother died. And this is how the story twists and turns, in search of a map.
The relationship Heilig presents between Nix and Slate (her father) is one that is truthful, distant, and full of regret. She regards him with distance. She is resentful of his dependence on her because she is the "expert" with maps. And she is fearful that when he finds the map, her life will change for the worse. He wants to go back to before her mother passed away, therefore changing her current life. Will she become a different person? Or will she disappear all together? And it is very clear that Slate doesn't think about the consequences of his actions. He is very narrow minded.
The events that take place over the course of The Girl From Everywhere really show character growth. Not only from Nix, but from her father as well as crewmate Kashmir. Kashmir is an interesting character, with a very unique background. The relationship between him and Nix is full of tension. There were moments when, had Nix said something, their friendship could have moved to be more. But because she is fretful of her father's plan, and her own longing to escape Slate, she keeps Kashmir as a distance as well. She is mostly worried about losing him, and becoming her father. She is witness to what happens when you lose the love of your life.
The Girl From Everywhere is refreshing and envisioning. I thoroughly enjoyed the intertwining relationships between all the characters.
Rating: 5 out of 5