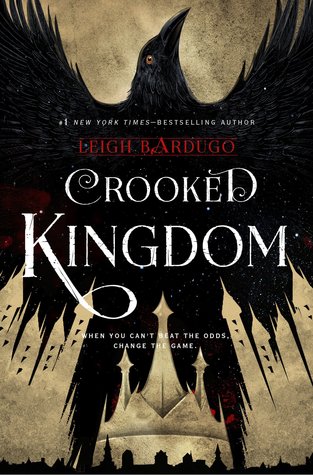 GoodReads Summary:
Kaz Brekker and his crew have just pulled off a heist so daring even they didn't think they'd survive. But instead of divvying up a fat reward, they're right back to fighting for their lives. Double-crossed and left crippled by the kidnapping of a valuable team member, the crew is low on resources, allies, and hope. As powerful forces from around the world descend on Ketterdam to root out the secrets of the dangerous drug known as jurda parem, old rivals and new enemies emerge to challenge Kaz's cunning and test the team's fragile loyalties. A war will be waged on the city's dark and twisting streets―a battle for revenge and redemption that will decide the fate of magic in the Grisha world.
My Review:
So this is the followup to Bardugo's Six of Crows which I absolutely loved. And Crooked Kingdom was just as good, though not better. We again follow the rogue Kaz Brekker and his band of miscreants. This time they are seeking revenge on their double crossed deal with Ja Van Eck- "We are going to take Van Eck's money, and then we're going to take his reputation."
Bardugo does a good job of wending the story long, telling if from the perspective of each member in the group. And along the way things go wrong. Plans must change. Surprises arise. The writing is just as good, but I do have to say the story felt slower than Six of Crows. There isn't as much action. You get more personal with Nina, Matthias, Inej, Kaz, Jesper, and Wylan, more of their backgrounds that was missing from the first novel.
Six of Crows was better, in my opinion, due to the fact that it was more fast paced. I will say that Bardugo does a great job of holding back details and surprising the reader just when you need it. Don't think you'll get through this book scot-free without deaths. There are some and they hit pretty close to home.
Rating: 3.5 out of 5