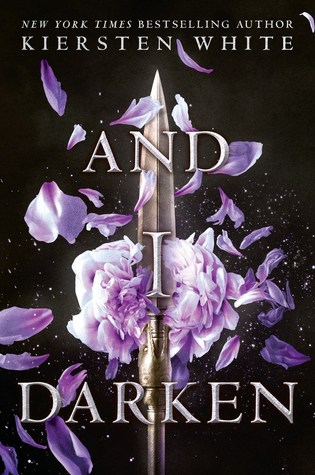 GoodReads Summary:
NO ONE EXPECTS A PRINCESS TO BE BRUTAL.
And Lada Dragwlya likes it that way. Ever since she and her gentle younger brother, Radu, were wrenched from their homeland of Wallachia and abandoned by their father to be raised in the Ottoman courts, Lada has known that being ruthless is the key to survival. She and Radu are doomed to act as pawns in a vicious game, an unseen sword hovering over their every move. For the lineage that makes them special also makes them targets.
Lada despises the Ottomans and bides her time, planning her vengeance for the day when she can return to Wallachia and claim her birthright. Radu longs only for a place where he feels safe. And when they meet Mehmed, the defiant and lonely son of the sultan, who's expected to rule a nation, Radu feels that he's made a true friend—and Lada wonders if she's finally found someone worthy of her passion.
But Mehmed is heir to the very empire that Lada has sworn to fight against—and that Radu now considers home. Together, Lada, Radu, and Mehmed form a toxic triangle that strains the bonds of love and loyalty to the breaking point.
My Review:
And I Darken was quite an interesting book for me. It is a retelling of Vlad III, Prince of Wallachia, or better know as, Vlad The Impaler. This story takes place in the mid 15th century when the Ottoman's were trying to take Constantinople. It focuses on Lada (female version of Vlad), her brother Radu, and Mehmed- heir to the Ottoman Empire . It is a dual narrative, switching between Lada and Radu.
Lada Dragwlya is one of the strongest female characters I think I have ever read. She doesn't take crap from anyone. She isn't afraid to stand up for her beliefs and even tell the most power man in the world no. Her mind is a thing of it's own. She is always calculating, planning, evaluating every situation, trying to figure the best way to get her agenda accomplished. She does everything in her power to show that she is equal to any man.
Radu Dragwlya is the opposite of his sister. Where she is night and terror, Radu is sun and calm. While he doesn't start out as smart as Lada- by smart I mean calculating and conniving- through the teaching is Islam, his mentor, and watching the Ottoman Court, Radu learns to use his beauty and friendliness to develop relationships with the "right" people. Top use those relationships in the same way Lada uses strength and will.
I loved that And I Darken was more a setup for what is to come. In order to understand the end game the characters must be developed and complex.  White does an exemplary job with Lada, Radu, and Mehmed's growth. They start out as children, barely understanding the world in which they live. But over the ten to fifteen year period the novel takes place, each character grows into their traits. And by the end, they each know their purpose in life and do what is necessary to fulfill it.
I also want to applaud White on her research and detail to Islamic religion. It is quite clear she went above and beyond to understand the religion and portray it in the most realistic way possible. Our society judges Islam as a terrorist religion when, in fact, that is an extreme view of it. White showed the other side, the peaceful side, the true side.
Knowing nothing about Vlad the Impaler, the Ottoman Empire, and Islam I truly enjoyed this book and what Keirsten White had to offer us. Definitely give this novel a try.
Rating: 4 out of  5
I'd like to thank Random House Children's and NetGalley for the opportunity to read this ARC. Receiving this ARC for free does not sway my review.