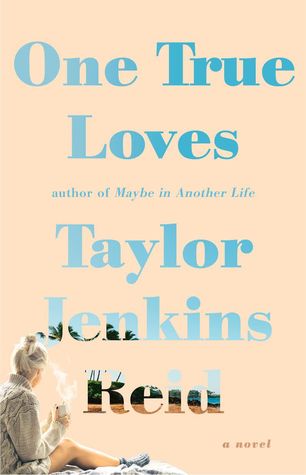 GoodReads Summary:
In her twenties, Emma Blair marries her high school sweetheart, Jesse. They build a life for themselves, far away from the expectations of their parents and the people of their hometown in Massachusetts. They travel the world together, living life to the fullest and seizing every opportunity for adventure.
On their first wedding anniversary, Jesse is on a helicopter over the Pacific when it goes missing. Just like that, Jesse is gone forever.
Emma quits her job and moves home in an effort to put her life back together. Years later, now in her thirties, Emma runs into an old friend, Sam, and finds herself falling in love again. When Emma and Sam get engaged, it feels like Emma's second chance at happiness.
That is, until Jesse is found. He's alive, and he's been trying all these years to come home to her. With a husband and a fiancé, Emma has to now figure out who she is and what she wants, while trying to protect the ones she loves.
Who is her one true love? What does it mean to love truly?
Emma knows she has to listen to her heart. She's just not sure what it's saying.
My Review:
So I know this isn't a YA novel, but when I read the synopsis I knew I had to have this book. Once I got it, back in February, I put off reading it. I think subconsciously, I wasn't ready for the heartbreak and loss this book would bring… and it brought it hard and fast.
From the summary, you already know Emma had a husband who died. She eventually
moved on, fell in love, and is engaged when news comes that Jesse, her husband, is alive. It's quite a shock. And that is really what this novel is about- how to come to terms with your past and your future, recognizing the person you have become.
Moving through the novel, we experience Emma's first true love, Jesse. Their relationship is a whirlwind romance. They are high school sweethearts, attend the same college, travel around the world together. You can see that their love could be a forever kind of love. But there comes a moment when Emma questions her future- kids, settling down, etc. And she is not sure of Jesse's opinion. But in the end it doesn't matter because he "dies".
Emma eventually moved back to her home town and is able to move on with her life. Then she meets Sam Kemp. He is her second chance at love and she takes it. They have built a wonder life together, so when Emma gets the call that Jesse is alive, she is thrown for a loop. She now has the opportunity to go back to her travel life with hr first love. But when Jesse does officially come back, it's different, he's different, they are different.
When Jesse comes back into the picture, it broke my heart to see Sam believe that Emma would go straight back into her old life, forgetting about him. But Sam was gracious enough to understand that Emma needed sometime to work through her feelings and he gave her that (please go listen to Crash and Burn by Savage Garden– this is Sam and Emma's song). And I got so mad at Jesse for assuming Emma would drop everything to be back with him, that he thought she shouldn't have moved on with her life. He was very selfish and didn't help Emma's confusion.
Taylor Jenkins Reid does a wonderful job at showing the turmoil a person goes through when they lose someone they love. The book is fast paced, moving through Emma's life quickly but also showing the most important parts of it. And the transition, that weird gray part of a person's life right after tragedy strikes, is the most compelling piece of the novel. Reid hits the nail on the head of how the body and mind handles death and destruction. Her words are like a complicated musical, moving from moment to moment, heartache to heartache (please start singing Pat Benatar- love is a battlefield). These in between chapters flow and sway, a slow blooming crescendo to a new life, a new person.
The novel also shows that while tragedy and death do happen, you can move on, you can love again. Heartbreak is not forever.
Everyone should read this book.
Rating: 5 out of 5
I received this ARC from Washington Square Press and Edelweiss. Receiving this ARC for free doesn't sway my review.