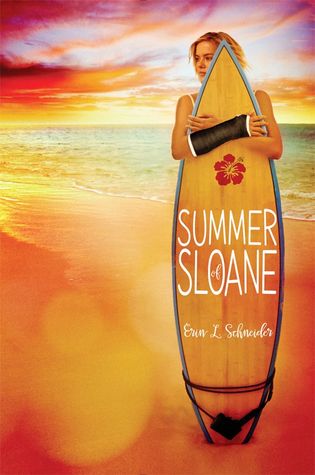 GoodReads Summary:
Warm Hawaiian sun. Lazy beach days. Flirty texts with her boyfriend back in Seattle.
These are the things seventeen-year-old Sloane McIntyre pictured when she imagined the summer she'd be spending at her mom's home in Hawaii with her twin brother, Penn. Instead, after learning an unthinkable secret about her boyfriend, Tyler, and best friend, Mick, all she has is a fractured hand and a completely shattered heart.
Once she arrives in Honolulu, though, Sloane hopes that Hawaii might just be the escape she needs. With beach bonfires, old friends, exotic food, and the wonders of a waterproof cast, there's no reason Sloane shouldn't enjoy her summer. And when she meets Finn McAllister, the handsome son of a hotel magnate who doesn't always play by the rules, she knows he's the perfect distraction from everything that's so wrong back home.
But it turns out a measly ocean isn't nearly enough to stop all the emails, texts, and voicemails from her ex-boyfriend and ex-best friend, desperate to explain away their betrayal. And as her casual connection with Finn grows deeper, Sloane's carefree summer might not be as easy to find as she'd hoped. Weighing years of history with Mick and Tyler against their deception, and the delicate possibility of new love, Sloane must decide when to forgive, and when to live for herself.
Review:
I really enjoyed reading Summer of Sloane. It's en excellent light summer read, but still deals with real life situations that, sadly, happen more frequently then we would like to think.
I was impressed with the main character Sloane. Her maturity in handling the situation between her best friend and boyfriend is remarkable. Yes it is a terrible situation, one in which the most mature of adults doesn't handle well. So Sloane takes off to Hawaii for the summer where she learns a lot about herself, how much she can and can't handle, and truths that she didn't see.
While in Hawaii, Sloane meets hunky Finn who helps her just have fun. He doesn't press her with questions of what happened; he is patient and kind, waiting for Sloane to confide in him. The romance between them is a spark that ignites from the moment they meet. They don't set any expectations- just each others company, seeing where the summer leads.
By the end of the novel, Sloane has mature a great deal more and is able to come to terms with events taking place between many different characters. This shows a great deal of insight into Sloane and her understanding of the world.
Rating: