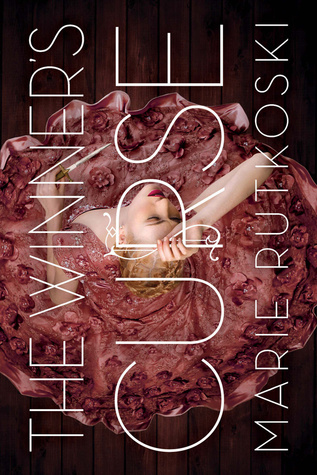 GoodReads Summary:
Winning what you want may cost you everything you love…
As a general's daughter in a vast empire that revels in war and enslaves those it conquers, seventeen-year-old Kestrel has two choices: she can join the military or get married. But Kestrel has other intentions.
One day, she is startled to find a kindred spirit in a young slave up for auction. Arin's eyes seem to defy everything and everyone. Following her instinct, Kestrel buys him—with unexpected consequences. It's not long before she has to hide her growing love for Arin.
But he, too, has a secret, and Kestrel quickly learns that the price she paid for a fellow human is much higher than she ever could have imagined.
Set in a richly imagined new world, The Winner's Curse by Marie Rutkoski is a story of deadly games where everything is at stake, and the gamble is whether you will keep your head or lose your heart.
My Review:
I acquired The Winner's Curse through a book trade with the wonderful Leah over at Southern Bred, Southern Read Book Blog. This series has been all over my twitter feed and my best friend told me to give it a try. I've gotten book recommendations from her before and have loved everything I've read. So when this came up for trade I was like sure, why not. Whelp, I finished it in one day- mostly due to the fact that I was a provisional judge for the Maryland Primary and had 15 hours of me sitting and waiting for people to vote.
I really enjoyed the story Rutkoski told through Arin and Kestrel. Characters weaved in and out of each other, like a carefully plotted dance. One knowing exactly where to step and when to step, the other following those steps, but not knowing where they ended, what would happen.
Starting out, Kestrel seemed like a very one dimensional character. She didn't care about much, was rude to people, and tried not to think. But as the story progressed I watched her unfold into this very conflicted, complex person. She was, all at once, narcissistic and self-sacrificing. There were times when she could only think about herself; in other instances, she thought only of others. These moments a disbursed sporadically throughout the book and help contribute to her final decision at the end.
Arin, on the opposite side of the story, knew how to press Kestrel, get her to speak to him about subjects and information that would help him. And Kestrel, being the naive thing she is, freely spoke. Watching Arin's plot unfold, while his heart grew to feel for Kestrel, was heartbreaking, because in the end, his decisions drove her away.
They played a game and neither won.
I can't wait to read the next two in the series and see where Kestrel and Arin's decisions take them. Though, I have a feeling it will only lead to more heartache.
Rating: 4 out of 5