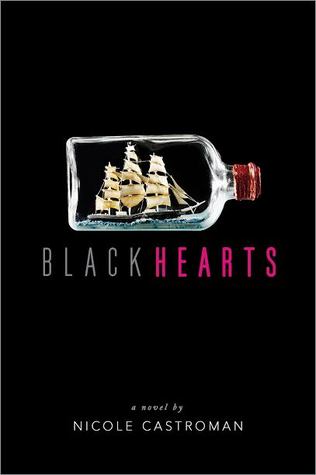 GoodReads Summary:
Blackbeard the pirate was known for striking fear in the hearts of the bravest of sailors. But once he was just a young man who dreamed of leaving his rigid life behind to chase adventure in faraway lands. Nothing could stop him—until he met the one girl who would change everything.
Edward "Teach" Drummond, son of one of Bristol's richest merchants, has just returned from a year-long journey on the high seas to find his life in shambles. Betrothed to a girl he doesn't love and sick of the high society he was born into, Teach dreams only of returning to the vast ocean he'd begun to call home. There's just one problem: convincing his father to let him leave and never come back.
Following her parents' deaths, Anne Barrett is left penniless and soon to be homeless. Though she's barely worked a day in her life, Anne is forced to take a job as a maid in the home of Master Drummond. Lonely days stretch into weeks, and Anne longs for escape. How will she ever realize her dream of sailing to Curaçao—where her mother was born—when she's stuck in England?
From the moment Teach and Anne meet, they set the world ablaze. Drawn to each other, they're trapped by society and their own circumstances. Faced with an impossible choice, they must decide to chase their dreams and go, or follow their hearts and stay.
My Review:
Blackhearts is an unstoppable story full of history, romance, and intrigue. This is Nicole Castroman's debut novel and her writing style is genius.
The story is told from the 3rd person limited POV. You go through the story seeing through both Teach's and Anne's perspectives. The 3rd person limited narration allows the reader to fully understand the context of the situation through the character's eyes. When Anne is speaking, we only know how she is feeling and how she is interpreting Teach's actions. The reader comes to understand how high society functions as well as the behind the curtain of the household staff. Anne is considered beneath the regular household staff due to her mother's background (being from the West Indies).
Castroman did an excellent job at conveying the misogynistic, sexist,  and racist standards present during the time period Blackhearts is written. I didn't have any preconceived notions about this book, but I will say reading others reviews of it helped me set my mind. When you hear "Blackbeard retelling", you think pirates and ships. While Castroman didn't give us those things in Blackhearts, she gave us a starting place, which I am grateful for. To understand Blackbeard you have to know where he comes from, and specifically, what made him into a pirate.
The romance itself is a slow burn, building to greatness. You can feel the attraction between Teach and  Anne from the first page. It also helps that there are other characters who get in their way. Miss Patience, the little priss teach is betrothed to (I wished she'd fall off a cliff. I am sure there are plenty in Bristol). Master Drummond, Anne's employer and Teach's father. I hope, if there is a second book (there better be), we come to understand why Master Drummond was so controlling, thinking he knew what was best for his son. I can't believe that his character is just that controlling.
And finally, THAT CLIFFHANGER ENDING! I stayed up super late to finish reading Blackhearts and it was totally worth it (I also had a terrible nights sleep, dreams filled with rats, cockroaches, ships, and seas). The slow burning love Teach and Anne have for each other reaches it's climax and then everything explodes. My only thought at the end of the book was, if Anne hadn't lied to Teach originally then none of this would be happening!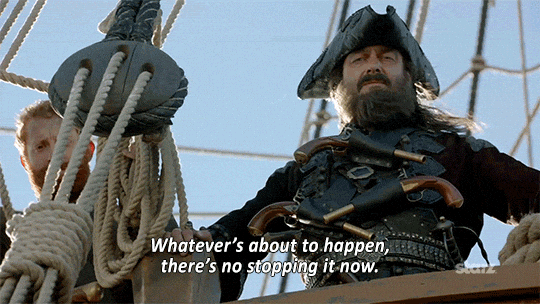 If you like historical fiction, retellings, and romance, Blackhearts is the perfect combination.
Rating: 5 out of 5