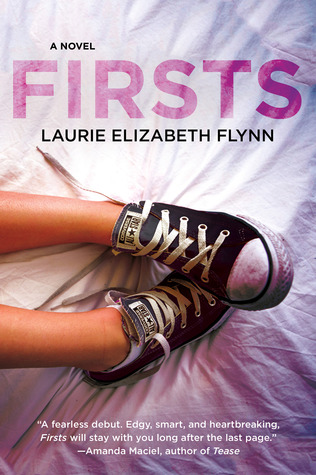 GoodReads Summary:
Seventeen-year-old Mercedes Ayres has an open-door policy when it comes to her bedroom, but only if the guy fulfills a specific criteria: he has to be a virgin. Mercedes lets the boys get their awkward, fumbling first times over with, and all she asks in return is that they give their girlfriends the perfect first time- the kind Mercedes never had herself.
Keeping what goes on in her bedroom a secret has been easy- so far. Her absentee mother isn't home nearly enough to know about Mercedes' extracurricular activities, and her uber-religious best friend, Angela, won't even say the word "sex" until she gets married. But Mercedes doesn't bank on Angela's boyfriend finding out about her services and wanting a turn- or on Zach, who likes her for who she is instead of what she can do in bed.
When Mercedes' perfect system falls apart, she has to find a way to salvage her reputation and figure out where her heart really belongs in the process. Funny, smart, and true-to-life, FIRSTS is a one-of-a-kind young adult novel about growing up.
My Review:
Flynn's Firsts is gritty, blunt, and truthful. She takes the topics of sex and high school from conventional to out of the box direction.
Mercedes uses sex as a control factor for her, otherwise, out of control life. Her mother is completely negligent, telling Mercedes, from an early age, she has to be skinny and pretty, and treating her like a best friend rather than a daughter. Her father basically abandoned her at the age of eight. Mercedes believes she is helping these guys, by taking their virginity, and giving them direction for their first time with their girlfriends. It isn't until everything blows up that she has to re-evaluate her life, who her friends are, and what she really wants. This is a true coming-of-age story, one where Mercedes believes she is an adult, making adult decisions, but in reality she is lost, alone, and confused… and still a child in some ways.
When I first read the synopsis for Firsts I was intrigued. The topic of sex, high school students, and virginity is something Americans have a difficult time talking about. Especially when it comes to the pressures put on both guys and girls. Most high school sex-ed programs focus on abstinence only in a society where, more often than not, students are having sex earlier and earlier. I think this book portrays high school sex in the most accurate way possible.
Reading this book really took me back to high school, the pressure of sex from my boyfriend, my first time (and those subsequent times after), and what it all really meant. Everyone has a first time story and it really hit home. Guys are expected, by society, to know how to have sex, and how to make their girlfriend feel good. But in reality, it's a learning curve, one that lasts for a very long time. And, as a society, we put too much stock into virginity and pureness, so girls believe that they have this precious thing  that has to be protected; that they can only give away at the right moment, right time.  It's absurd.
"They have the hard part, physically and emotionally. Virginity is supposed to be something a girl gives up only when she is ready and feels comfortable, something a girl discusses at length with her friends and flip-flops over a million times in her mind before actually doing it. A guy is expected to be born ready."
Above is the perfect description of society's expectations. This topic is near and dear to my heart and Firsts really captures the truth of sex for teens today.
Rating: 5 out 5