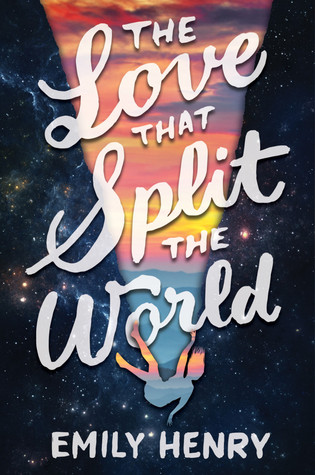 GoodReads Summary:
Natalie Cleary must risk her future and leap blindly into a vast unknown for the chance to build a new world with the boy she loves.
Natalie's last summer in her small Kentucky hometown is off to a magical start… until she starts seeing the "wrong things." They're just momentary glimpses at first—her front door is red instead of its usual green, there's a pre-school where the garden store should be. But then her whole town disappears for hours, fading away into rolling hills and grazing buffalo, and Nat knows something isn't right.
That's when she gets a visit from the kind but mysterious apparition she calls "Grandmother," who tells her: "You have three months to save him." The next night, under the stadium lights of the high school football field, she meets a beautiful boy named Beau, and it's as if time just stops and nothing exists. Nothing, except Natalie and Beau.
Emily Henry's stunning debut novel is Friday Night Lights meets The Time Traveler's Wife, and perfectly captures those bittersweet months after high school, when we dream not only of the future, but of all the roads and paths we've left untaken.
Review:
The Love That Split The World is an enchanting read about young love and time travel. Natalie can see two different versions of her hometown, Union, and meets an intriguing guy, Beau, when she slips into the alternate town. Her grandmother, a "spirit", tells her at the beginning of the book that she has three months to save "him", but Natalie doesn't know who "he" is. She spends the summer trying to discover who this guy she is supposed to save is, but also who she is and what she wants.
I found this book to be very interesting. There are stories within the overarching story itself. These stories come from old Native American tales passed down through generations, but also stories out of the bible. For Natalie, these stories have meaning because she is part Native American. Natalie is a complex character trying to find out who she is and where she fits in with the world. Since she is adopted, and one half Native American, she finds it difficult to determine where she fits in. When she meets Beau, who is an equally complex character, she is certain she has found someone who understands her circumstances because he is having a difficult time determining where he fits into the world as well.
Grandmother is a curious character. She tells stories that you don't fully understand until the moment the Natalie understands them. She is an odd duck, only appearing to Natalie during the nighttime speaking in riddles.
Beau is my favorite character. He is chivalrous and benevolent. He is, generally,always there for Natalie when she needs him the most. And the bond that is formed between them is unbreakable.
Emily Henry's writing is wonderful. I loved her use of the story within a narrative. As a reader, we are being told that these tales are important to the character in her quest to save a boy and discover herself. They play a major part in the plot and are a kind of foreshadowing, though at the time of reading them I didn't know what they were foreshadowing.
I enjoyed the book, but I am not a fan of the ending. I was left with questions and wasn't fulfilled. I need closure from my characters.
**SPOILERS** Don't read below this point if you haven't read! **SPOILERS**
If you have finished The Love That Split The World, great! I truly did love this book, HOWEVER, I did not love the ending. I was left with so many freaking questions and it made me angry (Veronica heard all about how angry it made me).
The second to last chapter leaves us with Natalie making the choice to try and change history, the accident's that left both her and Beau dead in their own worlds. GREAT! I love that idea. However, the last chapter is another story, telling us how a girl had never met a boy but she had missed him. I get the continuity with the story, and metaphorically, we can draw our own conclusions- Natalie succeeded in saving them both and they live happily ever after. I am not one to assume these things. I enjoy solid closure. I like to know FOR CERTAIN that she changes their timelines and they end up together.
This is why a star was knocked off for me.
**End Spoilers***
Rating: 4 out of 5